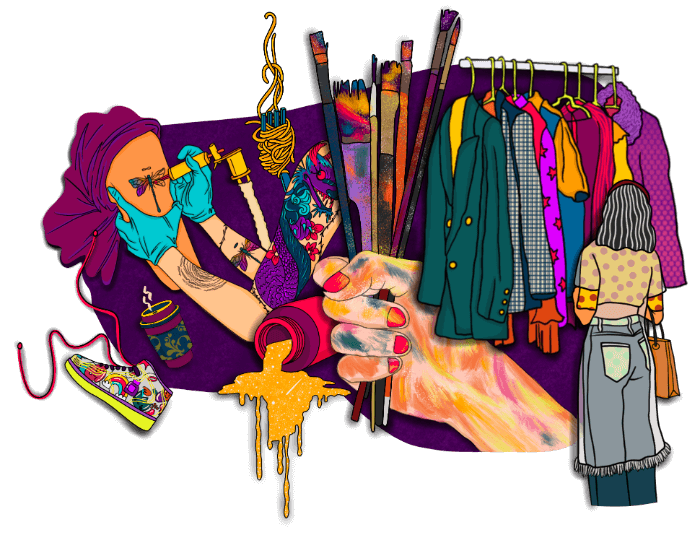 Need an audience? We'll give you free space at IFP
Calling artists who want to showcase their work to a creative audiences
Good art inspires minds. Every artist goes through a phase where they are looking for newer audiences. We've been through that too!
Here's your chance to grab space at Asia's most coveted creative place and sell your work to over 20,000 attendees.
What more? You keep every rupee of what you sell.
PS - You don't pay us anything and there are no hidden costs.
Potential buyers for your work at IFP Fest
What is the festival all about?
IFP is a multi-staged content festival that happens across four days with more than 180+ Prominent Creators from Films & OTT, Digital, Literature & Writing, Music, Design & Art, Storytelling, Audio & Podcasting, Photography, Tech & Gaming, Comedy, Culture, Advertising and Performing arts who will participate in various Conversations, UnPanels, Workshops, Masterclasses, Live Performances, and AMAs.
What are the Artist pop-ups about?
The IFP festival is giving a call for all aspiring artists to showcase and sell their work to audiences who cherish creative and artistic minds. This is a chance to grab a space in Asia's most coveted space and have a 20,000 + audience as your new buyers.
When and where is the festival happening?
The festival is scheduled to take place on-ground in Mumbai on 08th-09th October 2022.
What are the categories eligible for applying for artist pop-ups at the IFP festival?
There are no categories in the kind of product or art that is eligible for applying at the artist pop-up. So all the quirkiest and most creative artists this is the space for your products!
What are some of the requirements to be kept in check while applying?
Most of the questions on the applications are questions that require you to give a brief of your artistic product and how it stands out. Some of the questions include:
- Your Vision behind the initiative
- Experience with Pop-ups/flea markets
- How would your artist pop-up add to the audience's experience
- Your initiative's USP
- Images of your work.
Do we have to pay a fee to attain a space at the festival?
No, you as an artist don't have to pay any fee or any other kind of payment to showcase your work and sell them. If we like your work, the entire cost is on us.
Will IFP have a share in the proceeds from the artist pop-ups?
No, we at IFP want our artists to receive their due and hence all the proceeds from the pop-up will be all yours. So be ready to showcase your work and meet new believers of your work!