50 Hour
Filmmaking


Challenge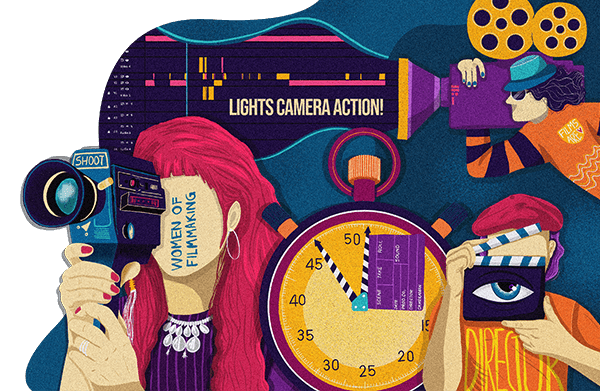 50 Hour Filmmaking Challenge
World's Largest Filmmaking Challenge.
Calling Professional filmmakers, production houses, aspiring directors, filmmaking enthusiasts and students.
Films change the world, one story at a time. They empower societies, create rebels, defy the norms, counter the culture and move minds. Join us in this journey ot sleepless nights where you compete with 40,000 limitless creators like you to achieve the extraordinary as adrenaline fuels the rush.
Join the largest filmmakers tribe in the continent and create your next masterpiece in just 50 Hours.
Participants in last 11 years from over 38 countries
Registrations Open till Sep 8
Participation fees excl of taxes
Rs. 1500 (Mobile), Rs. 2500 (Amateur), Rs. 3000 (Professional)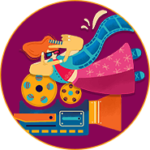 Team Leaders who have made 3 or more short films in the past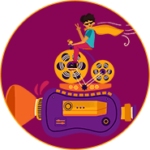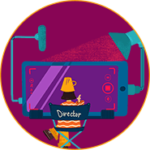 Shoot film entirely on a mobile device

Awards for Platinum, Gold, Silver, Bronze and #5 Film (Top 5) across each of the three categories.

One-on-one mentoring session with one Jury member.

Legacy lifetime free entry to IFP's 50 Hour Filmmaking Challenge

Exclusive Online Workshop for participants with an industry expert on the first day of the challenge.

E-certificate of Participation
Previous

Winners
Watch the winning films from previous 11 years
What previous participants love about 50 Hour Filmmaking Challenge
Participate Now
Last date to Register - Sep 8, 11:59PM

Participation Fees excl of taxes
Rs. 1500 (Mobile), Rs. 2500 (Amateur), Rs. 3000 (Professional)
Need more details before registering?
Get details on Whatsapp and Email
Q. I am not from India. Can I participate?
A. Indeed. IFP is a globally participated challenge and people from all over the world participate each year.
Q. Is there a registration fee?
A. The registration fees for each team is Rs. 3000 for Professional Category, Rs. 2500 Amateur Category and Rs. 1500 Mobile Category. Fees should be paid online to confirm your team participation. You will receive an email with your Creator ID upon confirmation.
Q. What is the evaluation critera?
A. Your film will be evaluated on the following criteria - Visual appeal, story and narrative flow, characters and on-screen performances, adherence to the theme and adherence to the genre.
Q. Are Special Effects allowed?
A. Yes, you can include special effects. However, no stock footage may be used for this. Inbuilt plugins and effects of software may be used.
Q. What will be the duration of the films?
A. The films are to be made between 4 to 6 minutes. This is because, for a good film produced in this challenge, 4 to 6 minutes is an ideal duration.
Q. Does the maximum length of the film include end credits?
A. No, the end credits are not included in the duration of your film. The end credits can be a maximum of 60 seconds.
Q. Can I modify the film after the challenge?
A. Of course, you can modify the film post the challenge, but keeping the following in the end credits – 'This film was conceptualised for IFP Season 12.'
Q. How do I upload my film faster?
A. We would recommend you to render the film at 1080p for faster upload results. Also, keeping the file size below 1 GB would make it faster.
Q. Can I participate in multiple challenges with IFP?
A. Yes, with the same email ID and password, you can participate in other IFP challenges.
Q. What can be the team size?
A. The team can have a minimum of 1 person and a maximum of 20 people. Each team member receives an e-certificate from IFP.
Q. Can I modify my team after I have registered?
A. Yes. You can modify your team anytime before Sep 12, 11:59pm.
Q. What about our film after the Challenge?
A. You can use your film in various ways, only to keep in mind that the film bears the credit "This film was made for IFP Season 12" in its title and end credits. For more details, read the team leader's agreement sent to your team leader at the beginning of the 50 Hour Filmmaking Challenge.
Q. Can I sponsor this challenge?
A. Please mail us at [email protected]
Q. Is any footage allowed in the end credits?
A. Yes, but the narration of your story should end before it.
Q. Can I use a stock photo?
A. If you own the rights to the photo, you can use it.
Q. Is animation allowed?
A. No, animation in any form is not allowed in the film.
Q. Can we include a title animation or our company logo in the film?
A. Yes, you can. Provided they are only on screen for less than 10 seconds.
Q. What should be the shooting quality, aspect ratio and sound for the film?
A. The final output should be a MOV or MPEG4 file with a resolution of 1080p. The aspect ratio should be 16:9. The sound has to be stereo.
Q. What language must my film be in? Do I need to add subtitles?
A. Your film can be in any language. Subtitles are compulsory for all films. You can refer to rules for more specific details about subtitles.
Q. I am a participant from out of India. What standard time should we follow for the 50 Hours?
A. The standard time for the challenge will be Indian Standard Time.
Q. I can't find a team member. Can IFP help?
A. You can download the IFP App from here. IFP app is a free place for you to find relevant people from your city. Each year, hundreds of teams use app to find new talent and collaborate.
Q. I am a filmmaker participating in the mobile category. Can I edit my film on mobile itself?
A. We do not allow films to be edited on mobile
Q. What is the Creator's Agreement?
A. Each team leader has to sign an agreement, which is legally binding. The agreement will help protect your rights as a creator and our rights as a platform. This agreement will be provided to the team leader at the beginning of the challenge through email along with the theme. Any team leader not submitting the same will be disqualified along with the team.
Q. Do I need a 'Location Release' to shoot on public property?
A. No, you need a location release only on a privately held property. But we strongly recommend taking permits wherever necessary in the case of public property.
Q. Where do I upload the film?
A. Link to upload your film will be sent to the team leader at the beginning of the challenge along with the theme.
Q. Can I use mobile to upload my film?
A. We highly advise you to use a laptop to upload your film. Mobile connections tend to be inconsistent, leading to delays. Use of a high speed broadband is definitely a plus!
Q. How do you judge so many films?
A. Each film, according to its category of participation, is sent to three different pre-juries for evaluation, consisting of two people each. The cumulative score from the pre-juries is used to prepare a list of merit. The top 30 films from each category are sent to the final jury for viewing and ranking.
Q. Is the judging process transparent?
A. Being one of the leading festivals in the continent, we at IFP strive hard to make sure that justice is done to each and every film submitted. To make sure we do not miss out on any films, the IFP team also watches these films simultaneously and raises an issue internally if any flaws or biases are found in the process. We do not entertain any requests for paid awards, neither have in the past and nor will in the future, to keep the spirit of competition alive.
Oct 8 & 9 / Mumbai
In continuation with the challenges, IFP Fest is a place where culture breaks. Each year, over 85,000 creative enthusiasts and seekers from the field of arts and tech come together to dream of better way to make the extraordinary happen.
Find free-spirited people like you and engage with them to unlock opportunities and build relevant creative collaborations.
Artists on Stage from over 10 creative fields
Collaborative Opportunites for you
Hours of Curated Programming
Challenge participants who are nominated will get a complimentary festival season pass. Participants who do not make it to the nominations are welcome to buy festival season pass at a discounted price.