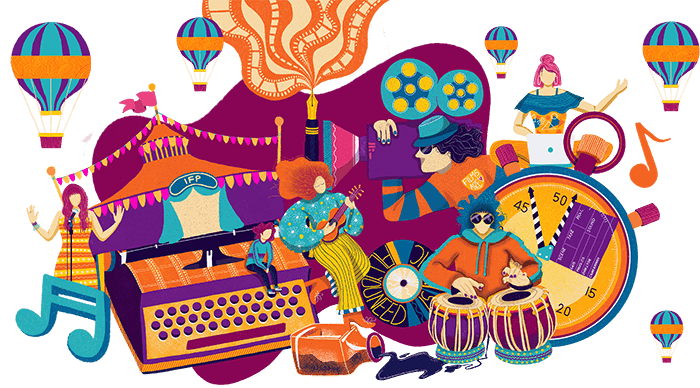 The journey so far..
"Creating is inventing, experimenting, growing, taking risks, breaking rules, making mistakes, and having fun"- Mary Lou Cook
Creativity is innate in all of us. It makes us stand out from the other species living in the world. We create to fill our lives with meaning, unbeknownst understanding, and make a difference in the world.
IFP understands the power of creativity and the profound impact it can have on all of us. We understand that creativity is limitless, boundless, and unique to everyone walking on this planet. And hence, with this understanding, IFP formerly known as India Film Project is a platform and a festival for people who create and love Films, Music, Literature, Poetry, Spoken Word, Visual Design, Performing Arts, Photography, Standup, Digital Media, Advertising, Tech, Gaming, Podcasts, and everything culture.
IFP began its journey with the 50 Hour Filmmaking Challenge, one of a kind in Asia, wherein over 38,000 filmmakers come together on a weekend, to shoot, edit, and present their films in just 50 Hours. In 2020, a one-of-a-kind 50 Hour Music Challenge was introduced - where over 13,000 musicians raced against a deadline to write, compose and produce their tracks. IFP also extended itself to other art form challenges, with writing, designing, storytelling, photography & standup.
Over the years, as our community grew, we aimed to become a single platform for creators and became international in 2015, and shifted to Mumbai in 2016 with a two-day content festival. The festival invites speakers from different fields of art, media, and technology and initiates interesting conversations, AMAs, workshops, and screenings. Currently, the IFP community consists of over 8.5 Lac creators from across the world.
For the years 2020 & 2021, the IFP Fest went virtual due to the Covid-19 pandemic. Our aim was simple; we intended to bring the same vibe, the same energy of our festival to every creative mind stuck in their home. More than 85,000 people from over 32 countries and 321 cities attended the IFP Season 11 Virtual Festival held in October 2021.
Moving beyond the festival, IFP has also developed a separate division that has worked with some of the leading brands in the world to create award-winning IPs for brands such as Budweiser, Vivo, Signature, Spotify, Cultfit, to name a few. IFP has also been the brains behind creator-driven programs such as Campus Connect and The Web Writers Lab. Our associations have provided a chance for the creators to interact and create branded content with leading national & international brands including Coca Cola, Nestle, Nissan, Godrej, Hotstar, Nokia, Pepsico, Axis Bank, Exide, P&G, ITC, and so on.
With a team of 20+ of the most ambitious, creative, and talented pool of people working together, IFP is now a multi-domain platform and fest that endeavours to become the voice and support of all misfits, doers, go-getters, thought-provokers; the ones who shape culture with their ideas and creativity.
CAMPUS CONNECT
IFP comes to your campus and organizes a 24 hour filmmaking challenge. Bet us, this is one of the most-fun thing that will happen in your college fest!
LABS


Love writing or being a great producer? IFP co-organizes labs which are platforms for aspiring and established talent to explore deeper and learn more.
IFP + BRANDS
We all love stories. We help brands tell their stories. From 10 second videos to copies to web-series, we've worked with some of the most popular brands of our times.