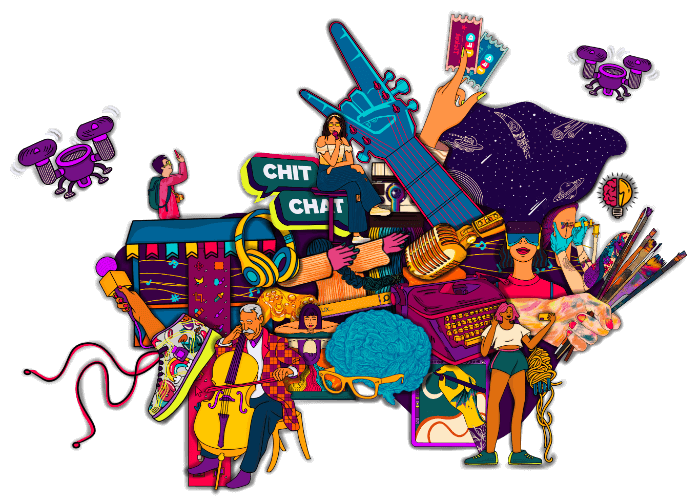 Those who made it and those who made it.
You competed with thousands and made your own masterpiece. That's always going to be your own.
While our pre-jury & jury went through thousands of entries multiple times in last few days, here are the ones who made the cut.
As a nominated creator, you get free entry to IFP Season 13 Festival. Please check your inbox for detailed mail for the process ahead.
If you're not nominated, you can still use the code from your registration mail to avail a 50% discount to the festival to cheer the winners. More about IFP Season 13 Festival here.
50 Hour Filmmaking Challenge
Professional Category
TP19019 - I am in love with the human I just met, by Team Houston, Houston

TP19036 - Circle Of Life, by Starglazze Film & Television Academy, Pune

TP19048 - Connection , by Shunya Films & Directions Studio, Mumbai

TP19051 - chosen, by wonder visions, bangalore

TP19053 - GUARDIANS of TRADITION, by Celluloid Visionaries, HYDERABAD

TP19061 - Episode # 311, by Rohil Khatke, Mumbai

TP19062 - Aazadi Ki Aawaz, by Long Story Short Films, Mumbai

TP19065 - Billi, by ADH Productions, Gurgaon

TP19066 - Arriving Today, by ityadi inc, Noida

TP19068 - THR DESCIPLE, by IMAGINEER TUNES, MUMBAI

TP19069 - END OF TUNNEL, by ArtFarm Films, Navi Mumbai

TP19071 - TALES FROM THE SHADOWS, by Terrace Tales, Chennai

TP19075 - The Last Slice, by Toasted Films, Gurgaon

TP19077 - LETTER TO RAANI, by Elevate Productions, chennai

TP19085 - Departure, by Best Case Scenario, Bangalore

TP19092 - Roz Marra, by Team Rocket, Mumbai

TP19097 - Charche, by RS Films and Media House pvt.Ltd, Navi-Mumbai

TP19099 - Good Time, by The OGs, Chennai

TP19104 - Mittar, by Vyakti Pune, Pune

TP19106 - Sensitive Sanchalak, by Movee Merchant, New Delhi

TP19112 - (Ab)normal, by Cinephiles, Chennai

TP19113 - NOTICE, by vikash aryan films, RANCHI

TP19114 - Hidden Colours, by Cinematic Fidelity, Chandigarh
Mobile Category

TM17010 - Fakira, by Qissay Productions, Mumbai

TM17033 - Daraana Zaroori Hein!, by Calm Dogs, Hyderabad

TM17053 - Crown, by Payyade Brothers, Mumbai

TM17098 - "PREY US", by cinefile pictures, CHENNAI

TM17102 - Shimpi "The private eye", by Meraki films, Mumbai

TM17110 - Butler, by Gubeer Joy Brothers, Chennai

TM17115 - TAKE 2, by CONCRETE JUNGLE TAPES, Bangalore

TM17174 - Mise-En-Life, by unicorn actors studio, Mumbai

TM17194 - Build Up, by IRL Films, Bangalore

TM17200 - DOUBLE CROSS, by Jaabaz Sher, MUMBAI

TM17205 - Trigger, by Asan Pictures, Chennai

TM17207 - Going Solo, by Shootastic, Greater Noida West

TM17216 - Pappa, by Team Haven, pune

TM17219 - PLAN-B, by The Raj Show, GODDA

TM17220 - SAPNE, by Chasing Dream Production, Nagpur

TM17239 - PLAN - TEA, by KISSEBAAZ, Agartala

TM17240 - Alerting the world, by NanoFlicks, Chennai

TM17243 - Plan bai, by inFrame, New delhi

TM17248 - The Ultimate Plan, by Unofficial, Mumbai

TM17307 - Mr. & Mrs., by The Boys, New Delhi

TM17312 - PLAN - B, by Tikola, VISAKHAPATNAM

TM17315 - Zeher, by FMaC BITS Goa, Goa

TM17316 - Cocaine Chaos, by KFS -10, Janakpur

TM17320 - The Burger, by Still In Action, Noida

TM17326 - GULLAK, by KORE KAGAZ, PRAYAGRAJ

TM17329 - Love Parachute, by Picworx Media, New York City

TM17337 - It's By Choice, by RAAR Films, Mumbai

TM17371 - Naqaab, by Delhi 9, Delhi

TM17373 - Bachat, by Black Flag Films, Mumbai

TM17378 - Paatti sutta vadai, by "Page Not Found", Mysore

TM17385 - Locked and Ludoed, by Potpourri Productions, Mumbai

TM17412 - Anti-Hero, by Artistic Crew, Rajkot

TM17417 - Saved by the Bell, by Team CineStageFilms, Bengaluru

TM17422 - Plan B***, by The Broken Lens, Kolkata

TM17438 - Umbrella(छाता), by On The House Entertainment, Dehradun
Amateur Category
TA18005 - Asafal, by Mac Mediaworks, Mumbai

TA18006 - Maaraa Niram, by Eashwar Gopala Krishnan, Chennai

TA18015 - T Star, by Team Moopans, Kannur

TA18016 - Subject SA01, by G11 Films, Mumbai

TA18022 - Unhook, by Square One Productions, pune

TA18029 - The Better Half, by The Show List, Delhi

TA18043 - RESET, by TXP Studios, Dewas

TA18044 - CROSSROADS, by Art For Life Entertainment, Chennai

TA18070 - Four years since, by Tatva Productions, Chennai

TA18100 - A Taste of Fate, by Team Agreed, New Delhi

TA18101 - Olakh, by Magik, Mumbai

TA18144 - Kagojer Nouka ( Paper Boat ), by Grey Chalk Filmworks,

Durgapur

TA18153 - Game on, by ZAPP, London




TA18238 - Thathaasthu, by Trancelation, Visakhapatna
TA18239 - Samay Ki Baazi, by ELEVATE ENTERTAINMENT, Mumbai

TA18248 - Khnoj, by Filmosophic, Kolkata

TA18253 - TA18253.mp4, by 35mm, Hyderabad

TA18282 - T&C*, by Team Haash-lers, Rajkot

TA18301 - Just One Sip, by Final Take, New Delhi

TA18309 - SURUTAI (THE CURLY), by TEAM MJ, Coimbatore

TA18312 - Harevlele Suur, by Keyhole Cinema, Mumbai

TA18323 - A Step Away, by Beyond Infinity Creative, Ratnagiri

TA18334 - Road to Identity , by Moustache filmz, Virar

TA18342 - Mic Check, by Chaman & company, Noida

TA18356 - Vibe, by Blue Ocean Media Works, Pune

TA18369 - Mohit Punia, Shiwangi, Arjun, by Jgs, Mumbai

TA18377 - Kaise main Kahoon, by Meraki, Kolkata

TA18378 - Break / Fast, by Bonbibi, Kolkata
Electronic
MU2717 - Safar, by Circuit Bored, Karjat

MU2752 - We're the people of Los Angeles, by Takshvi, Noida

MU2756 - Axiom, by SuperLit, New Delhi

MU2763 - Vizag Nagaram, by Praneet & Farhat, Visakhapatnam

MU2776 - Jaipur Serenade, by Glitchfolks, Jaipur

MU2794 - The Song of Venice, by Dj Crescendo, Pune

MU2823 - Anjaan?, by G.S.A., Ranchi

MU2834 - Moksh, by Relektron, Pathankot

MU2848 - Thoongaa Nagaram, by IITMTV Music, Chennai

MU2887 - Chennaiyin Mozhi, by Access, Chennai
HipHop
MU2715 - Lucknow Anthem, by SuperLit, New Delhi

MU2727 - Kanavile Kochi, by Tapioca Trip Band, Bangalore

MU2738 - Banaras (A City To Live), by Vairagi Music, Aligarh

MU2755 - Ye Dilli Hai, by DILJABI, delhi

MU2798 - F city (Fatorda City), by Killoshi Clan, Fatorda

MU2821 - SARFIRA, by VALLUM, PUNE

MU2840 - Cuttack City Anthem, by Urban Loafer, Cuttack

MU2859 - Bangalore 75, by Rizlo, Bangalore

MU2863 - IMARTEIN, by RNDM, Mumbai , Vellore

MU2877 - City of pearls, by UNOS, Hyderabad

MU2897 - I'm coming, by KNR, Chennai

MU2742 - HIPHOP RAJDHANI, by MC STELLAX, Faridabad

MU2705 - Chennai Chronicles, by Yuvraj on the flow ft. Neurowav, Chennai

MU2772 - Malwe da dil, by abhi., Bathinda

MU2788 - Noon Chai & Pashmina, by TMSB, new delhi
Pop
MU2721 - Dilli, by Silver Glitch, Delhi

MU2726 - Gulabi, by SSD, Jaipur

MU2728 - Laahe Laahe, by Dr. Sneha Sharma, Mumbai

MU2767 - Delhi Anthem, by Shikaana, Noida

MU2771 - City of Hope, by THE PA2T(PAST), Chennai

MU2785 - Indore hai bhiya, by Kushal Somani, Mumbai

MU2824 - Hello Mumbai, by Geetavya, Gurgaon

MU2832 - Goa's A State Of Mind, by Keith Kevin, Margao, Goa

MU2851 - Mumbaiyan, by CJ Music, Mumbai

MU2853 - Chennai Marakadhu Unnai, by Sharpened Flats, Chennai

MU2857 - Bhuj Asaanjo, by Fusion Factory, Bhuj

MU2866 - Khama Ghani, by Arjan Singh, Jaipur

MU2878 - BAMBAI NAGARIYA, by GYAMA, mumbai

MU2885 - Mumbai.. Mumbai.. Aamchi Mumbai.., by Mohe Sang Ga, Mumbai

MU2886 - PARIS, by THE EDGES, Kozhikode

MU2890 - Aake Milo, by Tamo Jit & Aura, Kolkata

MU2711 - Namma Chennai, by Stanly's Angels, Chennai

MU2831 - Blurry Night, by Marian Brothers, Bangalore

MU2704 - Shaam Banaras Ki, by DPRO, Mumbai

MU2719 - Mumbai OMJ, by Dhi Harmony, Mumbai

MU2801 - Congress Bun, by Bluedoor+Sharmila Joshi, Bengaluru

MU2873 - Lost in Paris, by Amartya and Nirmiti, Hyderabad

MU2781 - EI SHOHOR, by SOMEDAY, GUWAHATI

MU2762 - Welcome to Chennai, by Jataka, Chennai

MU2906 - De Dhakka, by Danger Happiness, Mumbai
Rock
MU2710 - Mera Seher, by Tuset Anmol, Patna

MU2714 - We Rise, by Millennium Jokers, Bengaluru

MU2754 - Shimla, by Yash Vardhan Chaturvedi, Shimla

MU2758 - A City We Call Home, by Project Abies, Bongaigaon

MU2805 - Jannat, by Lost Coast, Mumbai

MU2808 - A City Crafted, by Work From Home Studio, Pune

MU2835 - Maayanagari, by The Floating Bottle, Mumbai

MU2858 - MH-12, by The Valley, Pune

MU2865 - Hy-Sheher, by DK Bose, Hyderabad

MU2867 - Where Fighters Survive, by End of Scene, New Delhi

MU2773 - tokyo dream, by bAd tRiP, Bhubaneswar
Folk Fusion
MU2748 - Mumbai Meri Jaan, by Surila Jattha, Mumbai

MU2789 - MHARO UDAIPUR, by ASAP COLLECTIVE, MUMBAI

MU2811 - Mumbai Meri Jaan, by The Ultimates, Boisar

MU2827 - Belegayithu Bengaluru!, by MOUNARAAGAM, BANGALORE

MU2829 - Shehar Ek Khwaab, by Singhaa, Mumbai

MU2841 - Amchea Mogachem, by MiG United, Panjim - Goa

MU2842 - Pathankot, by LittleZLife, Pathankot

MU2874 - Kutchhdo Baare Maas, by Folk Flamingo, Rajkot

MU2884 - Garvo Junagadh, by Rudraleen Production, Baroda

MU2784 - BOOJO BANDARI, by CJFPL MUSIC, Gurgaon

MU2901 - Mera Sahar, by sesh, suri

MU2729 - Namma Bengaluridhu, by Ramakrishna Musicals, Bengaluru

MU2786 - Chandrabhaga, by Tuningheart, Pune

MU2802 - Bega Aavjyo, by WM Records, PUNE

MU2809 - Kolhapur-The City Of Love, by Encore, Pune

MU2795 - JEE RAI, JAAGI RAI- MERA RAMNAGR, by BHOR-Riser, Ramnagar

MU2766 - On a Railroad, by Ayan Joe and Friends, Delhi
Think Piece (Non Fiction)
SW4440 - Ujval Nanavati, Pune

SW4452 - Swati Jain, Alwar

SW4457 - Nikita Arya, Delhi

SW4463 - Nithya Vishnu V, Chennai

SW4466 - Karni Gupta, Raipur

SW4501 - Krunal Patel, Barrie

SW4525 - Rosemary Fernandes, Dubai, United Arab Emirates

SW4534 - Naina Parasher, Bangalore

SW4548 - Himanshu Ahuja, New Delhi

SW4558 - Ishan Goel, Delhi

SW4567 - Akshaya S, Coimbatore

SW4580 - Shruti Patel, Shirpur

SW4671 - Bhavesh Nimodiya, Akola

SW4722 - Ria Tagore, Mumbai

SW4762 - Debashri Roy, Guwahati

SW4841 - Chinmayee Aphale, Pune

SW4943 - Amrutha Manoj, Kochi

SW4953 - Bhavya Jain, Mumbai

SW4991 - The Media Club Iit Bhu, VARANASI

SW5013 - Param Shah, Pune

SW5037 - Shamine Rodrigues, Mumbai

SW5050 - Tarannum Shaikh, Indore

SW5058 - Snehal Kolambekar, Thane

SW5060 - Soham Ghodke, Thane

SW5096 - Anshaj Sahay, kolkata

SW5175 - Divya Gandhi, Bharuch
Short Story

TM17010 - Fakira, by Qissay Productions, Mumbai

SW4758 - Anshul Nankani, Pune

SW4415 - Priyanshi Pandey, Bareilly

SW4435 - Dheeraj Mittal, New Delhi

SW4449 - J Nithya Ganesh, Springfield

SW4468 - Julia Sargunam Sargunam, Mumbai

SW4480 - Anyesha Sarkar, Durgapur

SW4489 - Sharanyaa S, Erode

SW4498 - Akanksha Shrikhande, Pune

SW4502 - Krunal Patel, Barrie

SW4504 - Tamanna Mohanty, Thane

SW4510 - Nancy Chadha, New Delhi

SW4527 - Adity Chakraborty, Mumbai

SW4535 - Kavya Shah, Indore

SW4537 - Himank Garg, Chandigarh

SW4559 - Deepak Charlotte, Bangalore

SW4563 - Aniket Ranjan, Jamshedpur

SW4568 - Hemangi Shinde, Mumbai

SW4577 - Amartya Agrawal, Bhopal

SW4578 - Aravind C.B., Bangalore

SW4590 - Saketh Devulapalli, Visakhapatnam

SW4592 - Aniket Kshirsagar, Pune

SW4593 - Sree Sanjana, Ernakulam

SW4606 - Joanna George, Cochin

SW4617 - Skandan Sampath, Chennai

SW4641 - Shivendra Sai Nutalapati, Hyderabad

SW4649 - Aniruddh Naik, Mumbai
Scriptwriting
SW4656 - Neehaarika Sindhuja T, Bangalore

SW4694 - Anand Menon, Ahmedabad

SW4706 - Rugved Thorat, Pune

SW4726 - Reshmi Mohan, Palakkad

SW4730 - Tejas K, Sahakarnagar Bangalore

SW4739 - Binoy Mohan, Bangalore

SW4760 - JOEANAND no last name, ernakulam

SW4770 - Abhyuday Sikarwar, Indore

SW4777 - Gargi Bhankharia, Vadodara

SW4778 - Anish Varughese Abraham, Sandnes

SW4796 - Tirsha Chatterjee, New York

SW4802 - Dhairya Zavei, London

SW4812 - Tarun Grover, Dehradun

SW4813 - Kairav Chhowala, Mumbai

SW4815 - Anav Nayar, Mumbai

SW4861 - Sakshi Ramnathkar, Margao

SW4862 - Kenil Shah, Mumbai

SW4867 - SAGAR PATWAL, Mumbai

SW4868 - Sejal Judge, Bengaluru

SW4869 - Preethi Mohan, Coimbatore

SW4878 - Supriya Shukla, Navi mumbai
SW4882 - Vibhum Sharma, Mumbai

SW4888 - Kartikey Masiwal, Noida

SW4889 - Dharmasish Sahoo, Pune

SW4890 - Ashesh Bhattacharya, Lucknow

SW4912 - Jahnavi Bhatt, Mumbai

SW5000 - Subhankar Chowdhury, North 24 Parganas

SW5020 - Snehal Mishra, Kharagpur

SW5021 - Divyansh Tripathi, Kharagpur

SW5028 - Jagriti Yadav, Alwar, Rajasthan

SW5041 - Sami Yasser, Varanasi

SW5052 - Prerna Katare, Mumbai

SW5056 - Adesh Meshram, Thane

SW5063 - Salil Salvi Salvi, Mumbai

SW5073 - Cine Club, Varanasi

SW5080 - Film Club IIT Kanpur, Kanpur

SW5100 - Jay Hirpara, Burnaby

SW5157 - Shaeesta Anwar Mallick, Dubai

SW5158 - Ayushman Badapanda, Cuttack

SW5161 - Uma Maheswara Reddy Beeram, Hyderabad
Digital Illustration
PD3908 - Priyanka Grover, Faridabad

PD3508 - Sulekha Biswas, Kolkata

PD3511 - Tanaya Sharma, Mumbai

PD3599 - Koushik Roy, Delhi

PD3601 - Nitish C Kumar, Bangalore

PD3616 - Anustup Sen, Kolkata

PD3684 - Netrali Duryodhan Huwale, Ambernath

PD3701 - Shreyansh Jain, Agra

PD3785 - Vasudharaje Srivastava, Kanpur

PD3898 - Niraj Nikam, Hyderabad
Brand Book
PD3509 - Karan Bhimrao Kamble, Mumbai

PD3569 - Tejasvi Songola, Mumbai

PD3571 - Vishaka dayani, new delhi

PD3575 - Arjun Balaganesh, Chennai

PD3581 - Hirak Pandya, Ahmedabad

PD3623 - Ritam Dey, Jaipur

PD3633 - Nikita Fernandes, Mumbai

PD3660 - Vishwa Trivedi, Bhavnagar

PD3740 - Anandi Singh, New Delhi

PD3888 - Deepa Chouta, Mumbai
Fan Art
PD3604 - Sreya S Majumdar, Pune

PD3653 - Jidnyasa Bhelke, Pune

PD3661 - ARITRA GURIA, Pune

PD3665 - Kaushiki Tripathi, Delhi

PD3694 - Sajan Mahamuni, Dombivali east

PD3715 - Vaibhav Jagtap, Dombivli

PD3717 - Gopika Gopan, Dubai

PD3744 - Nikshitha Senthil Selva Murugan, Karur

PD3769 - Surbhi Sonkusare, Nagpur

PD3774 - Gowtham Padmashali, Mangalore
Poster & Cover Art
PD3562 - Nazaf Hussain, Vadodara

PD3605 - Saran Raj, Tiruppur

PD3667 - Ayushi Verma, Ahmedabad

PD3675 - Akash Abraham, Chennai

PD3696 - Aditya Kilara, Visakhapatnam

PD3730 - Komal Jajoo, Surat

PD3781 - Sanyam Shivhare, Kanpur

PD3782 - Shivam Rathore, Kanpur

PD3867 - Nirupama Sinha, New Delhi

PD3869 - mshinde, Deheradun
UI
PD3506 - Sharadha Raut, Bangalore

PD3558 - Vrinda Gupta, New Delhi

PD3573 - Enya Mishra, Gurugram

PD3669 - Vaishnavy Ramachandran, Ahmedabad

PD3682 - Gayathri Babu, Ahmedabad

PD3733 - Akansha Roy, Guwahati

PD3767 - Divya Venkatesh, Bengaluru

PD3792 - Dhanashri Wadikar, Margao Goa

PD3797 - Nikita Tulsani, Bhavnagar

PD3922 - Harshit Khicher, Pune
7 Day Storytelling Challenge
Spoken Word
ST2023 - Paridhi Kalotara Aggarwal, Chandigarh

ST2045 - Vikash Kumar, Moradabad

ST2039 - Upasya Bhowal, Kolkata

ST2244 - Arti Jain, Doha

ST2259 - Ashutosh Kapoor, Mumbai

ST2073 - ILINA SINHA, Guwahati

ST2034 - KARNI GUPTA, Raipur

ST2107 - Farida Rizwan, Bangalore

ST2272 - Lata Nagwani, Bhopal

ST2140 - Nikita Karamchandani, Nashik
Poetry
ST2081 - Aditi Ojha, Aurangabad

ST2162 - Bhavika, San Diego

ST2211 - Krutika Zambre, Mumbai

ST2066 - LEONI ROBENS, Mumbai

ST2235 - Akshara Nair, Delhi

ST2274 - Amruta Ponkshe, Mumbai

ST2117 - Atul Kumar Verma, Pune

ST2061 - Naina Parasher, Bangalore

ST2172 - Kusum V. Moray, Solapur

ST2139 - Swarnim Vyas, Ujjain
SU1358 - Amber Raghuwanshi, Roorkee

SU1388 - Ashlyn Almeida, Navi Mumbai

SU1366 - Sneha Titoriya, Roorkee

SU1405 - Vivek dubey, Vadodara

SU1424 - Vishal Tyagi, Delhi

SU1370 - Aashna Suneja, Delhi

SU1414 - Neha Jhabak, Chennai

SU1331 - Priyank Khare, Gurgaon

SU1350 - Anand Simir, Mumbai

SU1379 - Meet Patel, Vadodara
50 Hour Photography Challenge
PC1510 - Swaraj V Patil, Alibag

PC1515 - Shristi Khaitan, Mumbai

PC1516 - Rajmudra Bargaje, Pune

PC1519 - Amanvir Singh, Chandigarh

PC1521 - Arjun Suri, Mumbai

PC1525 - Akash Pandey, Cologne

PC1545 - Sanika Joshi, Thane

PC1549 - Tvisha Shah, Farnham

PC1557 - Vikrant Mumbaikar, Alibag

PC1584 - Varun Dey, Lucknow

PC1585 - Farheen Memon, Vadodara

PC1595 - Ruksar Syed, Mumbai

PC1608 - Aditya Mohan, Ghaziabad

PC1626 - Aishwarya Shalini, Mumbai

PC1627 - Aditya Pancholi, Neemuch
PC1628 - Avik Datta, Kolkata

PC1631 - Siva Chand, Kanyakumari

PC1637 - Robin Shibu, Madurai

PC1657 - Bhushan Patil, Kolhapur

PC1659 - dipbrata bandyopadhyay, Kolkata

PC1672 - Studio KCT, Coimbatore

PC1683 - Dhruvi Prajapati, Ahmedabad

PC1694 - Shweta Muzumdar, Mumbai

PC1712 - Siddharth Kularia, Bikaner

PC1713 - Pranav Deo, Pune

PC1719 - Jagadish Dandamudi, Bengaluru

PC1750 - Yuman Faizan, Lucknow

PC1755 - Shikha Sood, Kullu

PC1765 - Pranav Solanki, Mumbai

PC1766 - Prisha Arora, New Delhi

PC1788 - Ankit Chaurasia, Mumbai