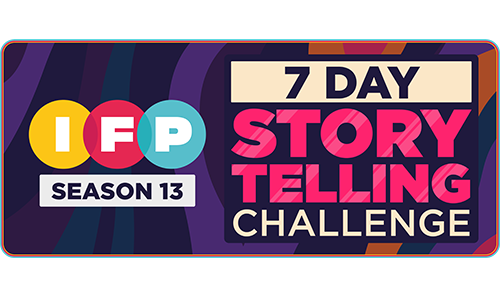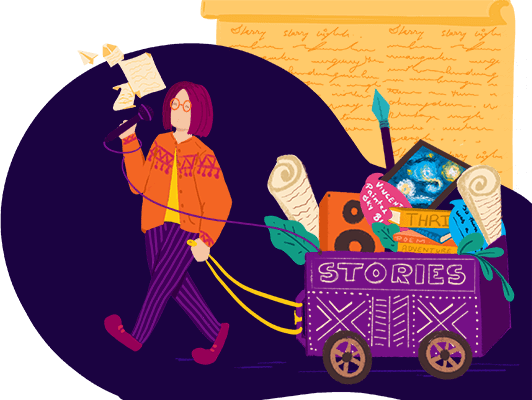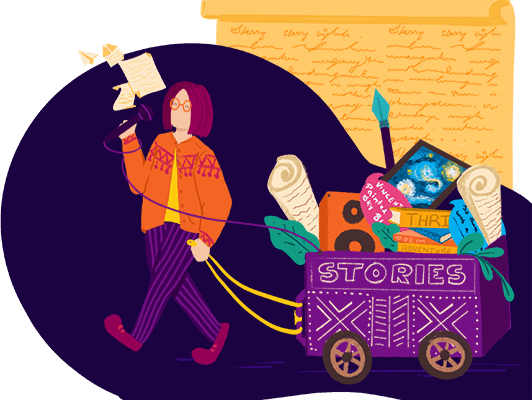 7 Day Storytelling Challenge
Use your words to influence hearts!
Calling open mic performers, poetry enthusiasts, stage artists and students.
Words have the power to elevate emotions. For centuries, stories have been that emotional thread between humans. Calling the seekers who are crazy enough to believe that their stories and poems can influence people and culture. Take this unique yet artistic journey with us to experience a never before rush along with 2000+ misfits like you.
Join one of the largest storytellers tribe in the country and craft your next masterpiece in just 7 days.
Participants in last 5 years from over 16 countries
Registrations Open till Aug 24
Participation Fees - Rs. 1000 excl of taxes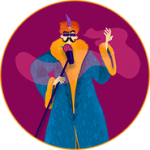 Free of poetic devices and rules, spoken word is the category where you can tell a story without any restriction.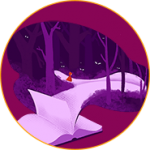 Rhyme, Rhythm and Repetition is what you should adhere to while writing and performing the piece of poetry.

Awards for Platinum, Gold, Silver, Bronze and #5 across both categories

One-on-one mentoring session with one Jury member.


Legacy lifetime free entry to IFP's 7 Day Storytelling Challenge

Exclusive Online Workshop for participants with an industry expert on the first day of the challenge.

E-certificate of Participation
Previous

Winners
Watch the winning piece from previous 5 years
What previous participants love about 7 Day Storytelling Challenge
Registrations Open Now
Last date to register - August 24, 2023, 11:59pm
Need more details before registering?
Drop your details below and we'll send you a whatsapp message
Q. How much time do I have to write and narrate my piece?
A. You will receive the theme on Saturday, Aug 26, 2023, 8pm IST and you will have to upload the story/poem in video format before Saturday, Sep 2, 8pm IST. You will have 7 days in all to write and record your story.
Q. I am not from India. Can I participate?
A. Yes. IFP is a globally participated challenge and people from all over the world participate each year.
Q. Is there a registration fee?
A. Yes, there is a registration fee of INR 1000 (USD 15). The payment is to be made online to confirm your registration. You will receive a unique Creator ID once the registration is confirmed.
Q. What is the evaluation criteria?
A. Your submissions will be evaluated on the basis of following criteria. Make sure that you pay attention to these.
- Spoken Word - Creativity and Originality, Sensory Details, Adherence to the Theme and your Performance in the video.
- Poetry - Creativity and Originality, Structure, Language, Adherence to the Theme and your Performance in the video.
Q. Will the production quality of my performance video matter?
A. Don't worry, the video production quality doesn't matter. Make sure that you are in a noiseless environment, keep the phone or camera at eye level, look into the camera directly, and out-perform your best self.
Q. I am a participant from out of India. What standard time should I follow for the challenge?
A. The standard time for the challenge will be Indian Standard Time.
Q. How do I submit my Spoken Word/Poem?
A. At the beginning of the challenge, you will receive an email with the theme as well as link to upload your video on your registered email ID.
Q. Does my Spoken Word need to rhyme?
A. There is no compulsion for your spoken word to rhyme.
Q. Is slam poetry allowed?
A. Yes, slam poetry is also accepted in poetry category.
Q. Can you give examples of categories that we can include in the Poetry Category?
A. Your poetry can be lyric, dramatic or narrative. In hindi, It could be Ghazal, Doha, Chopayee, Muktbaddh.
Q. Can I add background music to my Spoken word/Poem?
A. Yes, though it is not mandatory. However, ensure that the vocals remain clearly audible.
Q. Can I send an audio file instead of video?
A. No. We will only accept video files for this challenge.
Q. Who will judge my piece?
A. Your spoken word or poem will be judged by an eminent pre-jury and jury with tremendous industry experience.
Q. Do I need to sign a Creator's Agreement?
A. Yes. Everyone who participates in the Storytelling Challenge needs to sign a creator's agreement. The agreement will help protect your rights as a creator and our rights as a platform.
Oct 21 & 22 / Mumbai
In continuation with the challenges, IFP Fest is a place where culture breaks. Each year, over 85,000 creative enthusiasts and seekers from the field of Arts & Tech come together to dream of better ways to make the extraordinary happen.
Find free-spirited people like you and engage with them to unlock opportunities and build relevant creative collaborations.
Artists on Stage from over 10 creative fields
Collaborative Opportunites for you
Hours of Curated Programming
Participants who are declared winners will get a complimentary festival season pass. Participants who do not make it to winning are welcome to buy festival season pass at a discounted price.
Explore 50 Hour Challenges