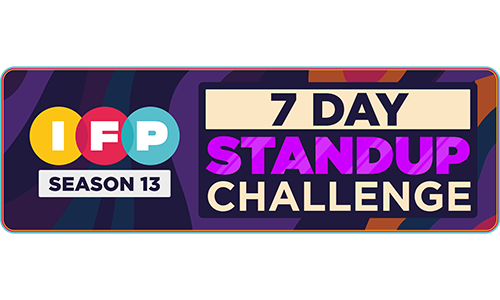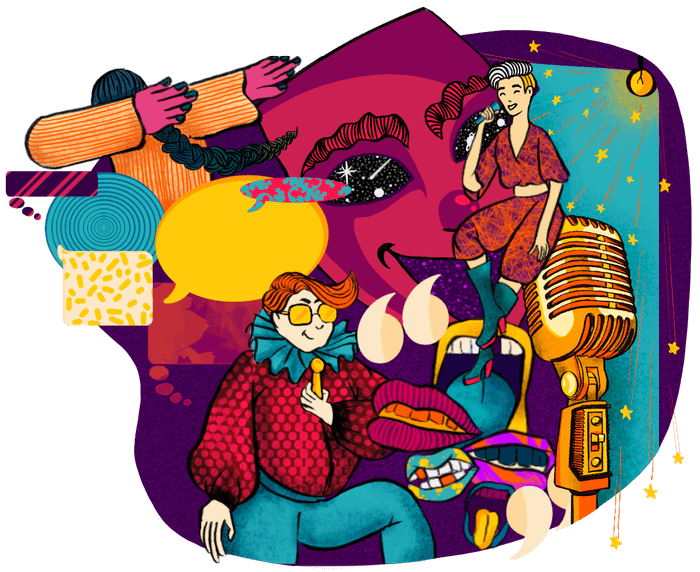 Your humour. Our stage. Your chance to conquer!
Calling standup professionals, open mic enthusiasts, content creators and students.
Go beyond open mics, we have a whole world waiting for you. Calling the misfits who believe that their words have a larger purpose to set the counter-culture.
Join the upcoming standup artist tribe in the country and create your next masterpiece in just 7 days.
Participants from 5+ countries to compete with.
Registrations Open till Aug 24
Participation Fees - Rs. 750 excl of taxes

Awards for Platinum, Gold, Silver, Bronze and #5 Sets (Top 5)

One-on-one mentoring session with one Jury member.


Legacy lifetime free entry to IFP's 7 Day Standup Challenge

Exclusive Online Workshop for participants with an industry expert on the first day of the challenge.

E-certificate of Participation
Know more about IFP Season 13 Festival
Registrations Open Now!
Last date to register - August 24, 2023, 11:59pm
Need more details?
Drop your details below and we'll send you a whatsapp message
1. Entries are open for participants from across the globe.
2. This is a competitive category and the registrations will be closed by 24th August 2023, 11:59 pm IST.
3. Participants will get the theme online on IFP's Instagram as well as on the registered Email ID and SMS/Whatsapp.
4. Your piece can be in Hindi or English only.
5. Your piece has to adhere to the theme, should be original and unpublished.
6. Your submission will have to include the following:
- The standup set must have a title and must not exceed the narration limit of a minimum of 3 minutes and a maximum of 5 minutes.
- A video of your standup set. It should be shot in landscape mode in 1080p, MP4 format with a maximum file size of 500 MB.
- The file name of your submission should be renamed to your Creator ID. e.g. - Your video film will be SU836.mp4, your Creator's Agreement will be SU836.pdf, etc.)

7. Participants are open to having an audience at the time of the video recording at their sole discretion.
8. Evaluation criteria - Content, Fluency, Presentation & Comic timing.
9. All registered participants will receive a Creator's Agreement along with the theme and upload link in the registered email ID at the time of the theme announcement. Check out the agreement here.
10. Along with uploading the submission, the participant is required to sign and submit the Creator's agreement online.
11. Any set that contains disrespect for a particular person, community, or religion or contains violence, hatred, obscenity, or nudity will not be qualified for the challenge.
12. Restrain from using foul or abusive language unless necessary in your submission
13. Your submitted piece will be strictly restricted to the jury of the challenge.
14. The set cannot be released until the results are announced at the festival.
15. IFP and Project parties, in their sole discretion, can disqualify the piece deemed to be inappropriate or otherwise non-compliant.
16. The compulsory element will be given on the fourth day of the challenge. The story/poem has to adhere to the theme, chosen category, and the compulsory element.
Oct 21 & 22 / Mumbai
In continuation with the challenges, IFP Fest is a place where culture breaks. Each year, over 85,000 creative enthusiasts and seekers from the field of Arts & Tech come together to dream of better ways to make the extraordinary happen.
Find free-spirited people like you and engage with them to unlock opportunities and build relevant creative collaborations.
Artists on Stage from over 10 creative fields
Collaborative Opportunites for you
Hours of Curated Programming
Participants who are declared winners will get a complimentary festival season pass. Participants who do not make it to winning are welcome to buy festival season pass at a discounted price.
Explore 50 Hour Challenges